KLICK SYSTEM Dovetail Snap-in Connector
The KLICK System is our one of a kind, tried and true method of snapping-on trims and moldings. Its fiberglass reinforced plastic design makes for an extremely tight hold and works for both, indoor and outdoor use. The dovetail design slightly compresses when inserting it into the groove, then puts outward pressure, holding it firmly into place. All of our KLICK connectors are self-tightening, making them suitable to use without any nails or glue. Our custom KLICK Dovetail Router Bit has been carefully designed to make the perfect route for the KLICK and sKLICK connectors.
The KLICK used to attach picture frame moldings.
Turn on the sound in the right hand corner of the video!
THE KLICK SYSTEM | DOVETAIL SNAP-IN CONNECTOR
The KLICK
is a double dovetail connector used to quickly snap on trims and moldings on-site. It's non-visible and eliminates having to use nails or screws. The fiberglass reinforced design makes for a strong connection that holds well in extreme temperature environments. No glue is needed when using the KLICK; and because drying time is not a factor, cost savings are maximized, while installation time is drastically reduced.
KLICK Features
Non-visible snap-in dovetail connector

Fiberglass reinforced plastic design

Snaps into place and is self-tightening

Can be disassembled and reassembled
The sKLICK
is a single dovetail connector that is screwed-in on one side and snapped-in on the other. Because it can be screwed-in, the sKLICK is commonly used for on-site applications, giving you the ability to adjust and compensate for unexpected variations. With the sKLICK, only one dovetail route is required, and like the KLICK, it is self-tightening and can be disassembled at any time.
sKLICK Features
Non-visible snap-in dovetail connector

Screwed in on one side for on-site applications

Only one dovetail route is required

Self-tightening and can be disassembled and reassembled
The KLICK Dovetail Router Bit is a custom bit, especially designed for the KLICK and sKLICK connectors. It has a tungsten carbide tip and comes in both, 1/4 inch and 1/2 inch shank sizes. As opposed to a standard dovetail router bit, our custom bit gives a softened edge near the surface of the groove, which allows the KLICK and sKLICK to easily snap-in without tearing the edge of the material.
KLICK Router Bit Features
Cuts the route for the KLICK and the sKLICK connectors

Tungsten carbide tip for long lasting use and durability

Custom dovetail design to perfectly snap in the connector

Comes in 1/4″ and 1/2″ shank for compact routers and CNC machines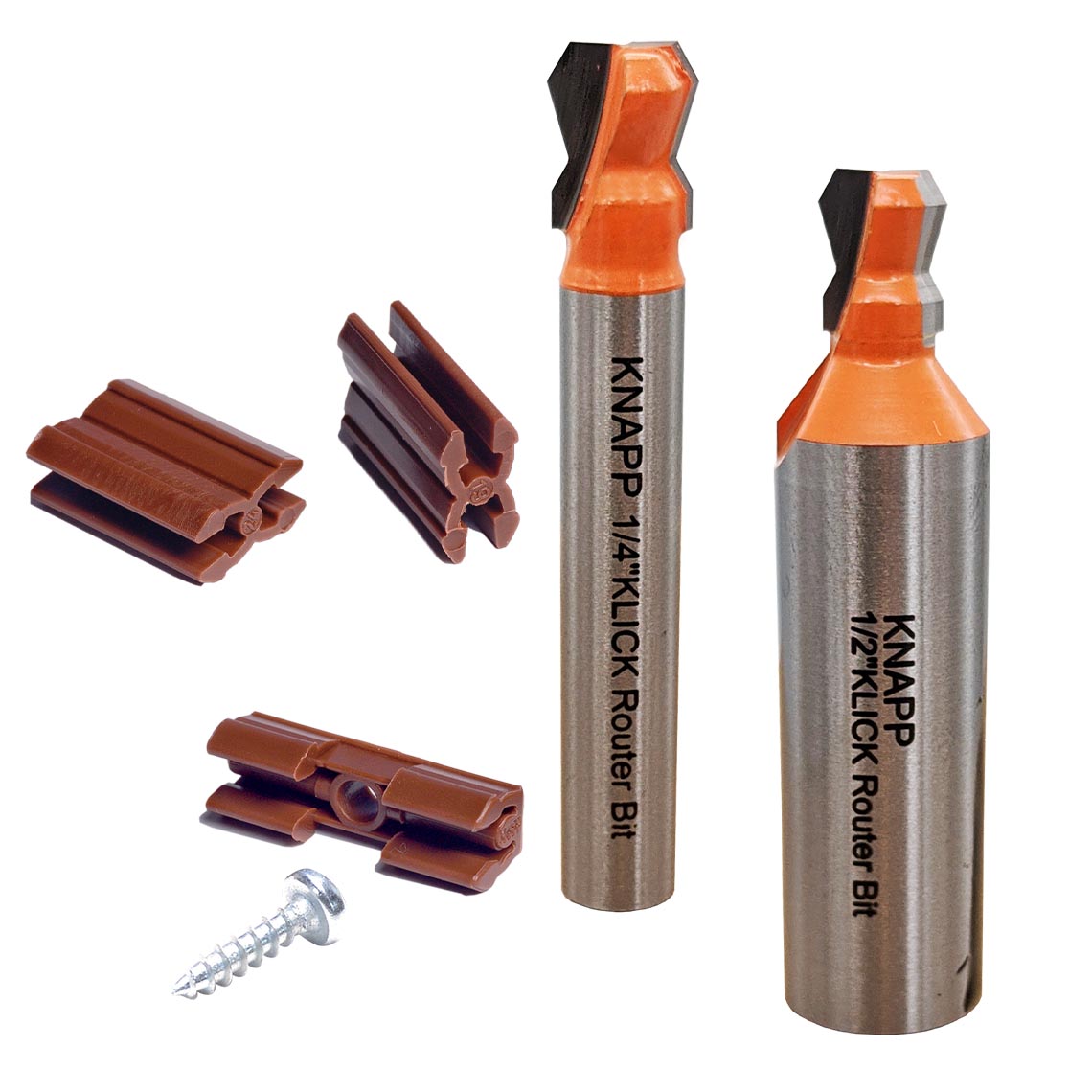 The KLICKpro
is a dovetail receiving adaptor that has been specifically designed to receive both, the KLICK and sKLICK connectors into its custom groove. Install the KLICKpro in a 12 mm route or rabbet using glue, nails, or screws. When the KLICKpro is combined with the sKLICK, no custom dovetail route is required. Its design gives you a completely non-visible, strong connection for window casings, 90 degree joints, and many architectural millwork applications.
Dovetail receiving adaptor for KLICK and sKLICK

Extremely strong hold when combined with the sKLICK

Commonly used for window casings

Installed in a 9 mm x 12 mm route or rabbet
The miniKLICK
is a 2-piece snap-in dovetail connector that serves to join together components with small dimensions, such as door and window stops, trims, and moldings. The male side simply snaps into the female connector for a firm hold. For installation, cut a small kerf using our KNAPP® Grooving Saw Blade. Next, pressure fit the miniKLICK into place. For extra holding strength, use our KNAPP-Adhesive PU+.
miniKLICK Features
SAMPLE PACKS, STARTER KITS AND MORE!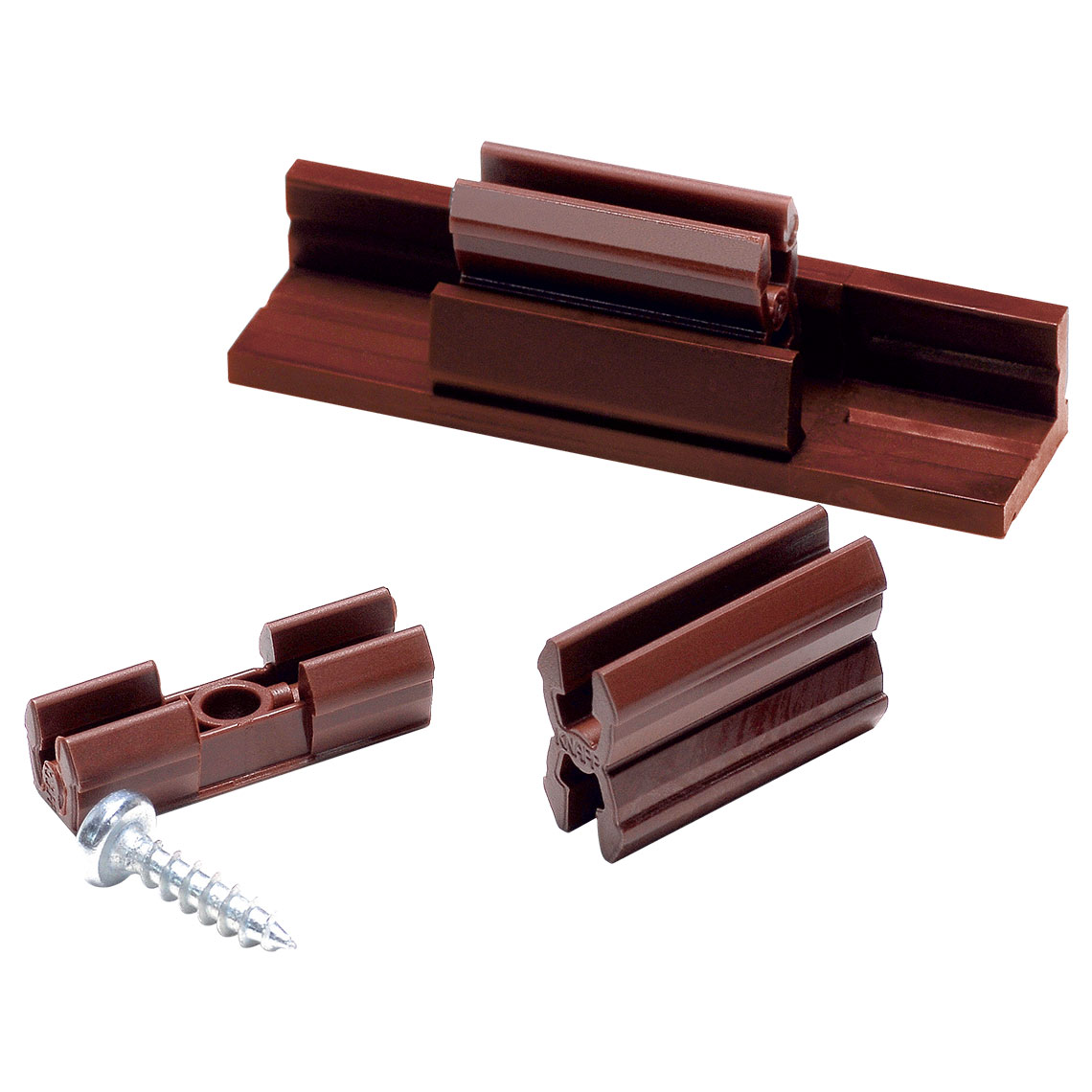 Skip the small stuff.
Get 10% off your first order!
Choose exactly what you need!

Packing units come in 4 sizes.
KLICK SYSTEM TECHNICAL SPECIFICATIONS
CHECK OUT MORE OF OUR INNOVATIVE CONNECTING SYSTEMS!
Have questions?

Contact a specialist today!
Our goal is to provide you with the tools you need to make an effortless transition when using our versatile connecting systems. Feel free to reach out if you have any questions. If you are looking for other resources that you do not see here, please contact us. We have a knowledgeable team that is eager to help you with all of your needs. You can also reach us directly at 1-877-888-7773. We look forward to hearing from you!