easy-con® – Sample Pack
$38.00
The easy-con® Sample Pack contains 2 pieces:
1 x easy-con® M8-16-50
1 x easy-con® M8-16-25
Description
easy-con® – Stair Tread and Table Leg Connector Sample Pack
easy-con® is a universal and non-visible fastener for the assembly of staircases, panels, frames, and fixing of table legs. Easy-con® offers the safety of high quality and secure connector for the assembly of stairs according to (EU) building code (Z-50.4-325). The connector can be disassembled, and easily re-tightened at any time. Easy-con® can be used in all wood materials and provides a high degree of pre-manufacturing. It consists of high-quality steel, a tightening component, a set screw, a bolt, and a screw-in dowel. The load-bearing of the insert is 7 kN for wood, such as beech, and can take pull-force up to 3 kN.
With easy-con®, visible screws, unpleasant looking cover caps, and visible threaded rods are a thing of the past. Apart from a small screw, which allows the connection to be disassembled, no connector part is visible.
The bolt of the connector automatically locks into the special Easy-con® nut and then immediately latches the joint. The installation is very easy, as the bolt snaps in. The assembly is very simple and can be carried out by a single person, using standard tools and machines. The easy-con® system impresses with simple assembly, perfect look, and saving labor.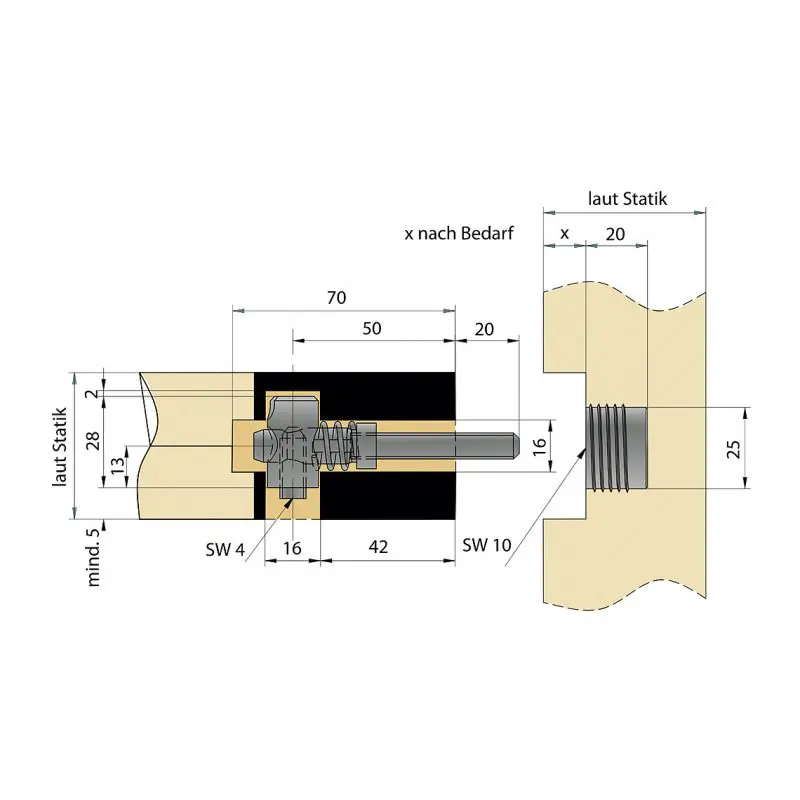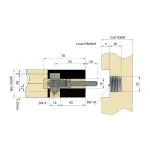 The patented easy-con® system is AVAILABLE IN 2 SIZES (M8-16-50 and M8-16-25).
M8-16-50 = Hole center is 50 mm away from the end of the board
M8-16-25 = Hole center is 25 mm away from the end of the board
Features and Benefits:
Fast assembly

Components are simply attached together in seconds
Reduces labor and equipment cost

Non-visible connector

Appeals to the architect and customer

Self-tightening

Demountable, force-fit connector
It can be re-tightened at any time.

Versatile

With column-type drilling machine or slotted hole drill press
Tips:
Perfect for industrial manufacturing with CNC
Used with all wood and board materials (solid and composite materials)
Applications:
Stair tread to stringer connection
Table legs
Panels
Frames
Furniture Material
Connector type
Clampbolt for stair tread and table leg mounting
Advantages
Demountable, can be re-tightened
Installation
With column-type drilling machine or slotted hole drill press
Suitable materials
All wood materials (both solid and composite)
Application
Tread to stringer connection. Table leg to tabletop connection
Applications
Stairs
Tables
Custom Woodwork
Installation
⇓View and Download our Instruction Manual⇓
Steps:
Install tensioning barrel into borehole #1 (Ø 16 mm x 28 mm)
Place spring bolt into borehole #2 (Ø 16 mm x 70 mm for m8-16-50) and (Ø 16 mm x 50 mm for m8-16-25)
Fasten set screw using an Allen wrench
Screw threaded spring insert in borehole #3 (Ø 25 mm x 20 mm)
Attach workpiece by inserting the bolt into the threaded spring insert and fasten the set screw using an Allen wrench
Tips:
Do not tighten the set screw all the way before attaching the workpiece.
Used with all wood and board materials (solid and composite materials)