Concealed Carpentry Fasteners for Architectural Millwork and Shop Fittings
KNAPP® Connectors provides concealed carpentry fasteners that maintain the optical quality of architectural millwork and shop fittings, while being engineered in an innovative manner for fast processing and application. Whether you need to snap-in or slide-in your components, our concealed fasteners provide numerous solutions that are all self-tightening and designed for fast processing. With multiple products and a high degree of prefabrication, we are confident that one of our woodworking fasteners will provide a perfect solution to fit your needs.
Hidden Connectors for Moldings and Trim
Snap-in Connector for Trims and Moldings
The KLICK is one of our concealed woodworking fasteners used to snap-in components with small dimensions, such as trims and moldings. After you've made your route, you can simply snap the KLICK woodworking connector into the custom dovetail groove. Because two dovetail routes must be made, the KLICK is commonly used where most pre-manufacturing can be done in the shop. You can combine the KLICK with the KLICKpro, making a firm connection by utilizing one dovetail route and a 12 mm groove. Use our KLICK System to take the place of unsightly nail and screw holes while maintaining a beautiful finished look. If you do more on-site applications, try our sKLICK Dovetail Connector.
Concealed Woodworking Fasteners for Trims and Moldings
The sKLICK is a hidden connector used to snap on trims and moldings with small dimensions. The sKLICK is screwed on the face or edge of the component and simply snaps into a custom dovetail groove. The route is made with our KLICK Dovetail Router Bit. The dovetail route can be made in a shop while the sKLICK connectors can be screwed onto the components on-site. Because it can be screwed in on one side, it finds its use in many on-site applications. This also allows for on-site precision and adjustments to be made if necessary. The sKLICK is a fully self-tightening woodworking connector without any visible fastener parts.
Adapter for KLICK and sKLICK
KLICKpro is an adaptor with a dovetail groove for inserting both the KLICK and sKLICK connectors. The KLICK can be snapped into a dovetail route on one side and snap into the KLICKpro on the opposing side. Screw the sKLICK onto one component and snap the other side into the KLICKpro. When using the KLICKpro plastic dovetail receiver, the connection is stronger, therefore, you can assemble and disassemble the connection as many times as needed without any tear out of the wood. Mount the KLICKpro into a groove or rabbet and carry out the installation by screwing, nailing or gluing. It can also be pressure fitted into the 12 mm groove, although gluing is recommend to ensure a long lasting connection.
2-Part Hidden Connector for Trims and Moldings
The miniKLICK is a 2-piece fastener for small trims and moldings. As one of our smallest woodworking fasteners, the miniKLICK is used for dimension as little as 1/2″ in width. Its miniature design allow you to snap on decorative moldings, light rail, and window stops without having to use nails. Not only does avoiding nails give you a much cleaner look, it ultimately eliminates having to putty holes which saves time and labor. When snapped together, the components hold extremely tight but can also be removed if needed. All of our KLICK-connectors are made of UV and weather resistant plastic. That being said, the miniKLICK is a worry free connector for both indoor and outdoor applications.
Wall Panels & Wood Facades
The DUO 30 and 35 is one of our concealed woodworking fasteners that is used to attach panels by simply hooking them together. Their slim design allows you to use them in material as thin as 5/8″ of an inch. Its shallow profile is used to attach panels without the need to screw or nail through the face. The DUO consists of two identical round shaped steel brackets that hook into each other in a dovetail-like manner. They come in both 30 mm and 35 mm round brackets.
Two versions:
DUO mL = with sideways tolerance (+/- 1/8″) and the DUO oL = without sideways tolerance.
Hidden Connector for Panels and Shelves | Stainless Steel
The UNO 30 is a hidden connector that consists of a round stainless steel bracket with a V-shaped receiver socket and a CS-screw, including a washer. Easy and fast assembly is guaranteed, as the generously V-shaped receiver socket receives the CS-screw head when mounted. Optionally, you can use the spring steel Locking Clip to latch the connector. Because of the bracket's round shape, it can be easily fitted into a 30 mm / 7mm deep rebate. As the CS-screw is mounted to the component, the washer is there to perfectly set it to the right height to fit perfectly in the bracket, while still giving the ability to adjust in order to compensate any differences in dimensions. The UNO 30 can be used for applications such as interior wall panels, ceiling panels, moldings, and much more.
Hidden Connector for Frames and Panels | Steel
DUO-System is a concealed woodworking fasteners for traditional frame joints and panels. They have been engineered in an innovative manner for fast processing and application. For example, the DUO 100/15 is an ideal frame connector for beds, and, like all KNAPP connectors, is non-visible, can be disassembled, and self-tightening. Beds made with the DUO 100/15 provide the perfect finished look with no visible fastener parts.
The DUO system is non-visible as it is installed in a mortise or rebate using our Routing Jig with a depth of 13 mm and milled either into the end-grain or face of the wood component. The DUO-System woodworking connector consists of two identical connector parts, made of high strength blue-galvanized weather-resistant steel, and is manufactured in Austria. It comes it 8 different sizes, for multiple applications.
Hook-in Biscuit Connector | Alloy Die-Cast
KOMBI is an alloy die-cast #10 hidden biscuit connector that you can use to attach panels, decorative covers, cladding and facades. Install the KOMBI by screwing with 3x25mm pan head screws or glue using our KNAPP-Adhesive PU+. Next, attach the KOMBI holding bracket onto the surface vertically or horizontally with the provided 3x25mm pan head screws. Lastly, hook the components together.
Slide-in Connector | Aluminum Die-Cast Zinc
The CHICO is a precision slide-in connector made of aluminum die-cast zinc, which can be used in Corian®, Marlan®, and similar materials in addition to wood materials. Simply screw the connector halves into a groove (50 x 12 x 10 mm) and join by sliding them together. The integrated stop allows you to assemble and disassemble the connection in one direction. While sliding them into each other, the joint tightens up and is immediately load-bearing. Its small dimensions and high stability make it ideal for the applications where high product safety is required, and components (furniture, interior design components, etc.) must be easily assembled and disassembled. (i.e. exhibition booths).
The KNAPP®-Dowel is a strong and durable self-holding plastic dowel connector available in 6×28 mm and 8×36 mm. This dowel is made of high-strength weather-resistant (POM) plastic. Because it is designed to resist rotting, you can use this dowel both indoors and outdoors. Due to its special design of threaded ribs, it grips itself into the borehole, hence, you do not have to clap your material. Unlike conventional wooden dowels, you can use the KNAPP-Dowel with or without adhesive. If used with the recommended KNAPP®-Adhesive PU+ (Z011/1) the lengthwise grooves and two holes ensure an optimal distribution of the glue and a firm anchoring in the material, therefore, creating a strong and tight connection between the components when hardened. Unlike wooden dowels that can shrink and swell when exposed to the outdoors.
2-Part Locking Dowel | No Glue needed
The QUICK-SET is a simple and efficient 2-part Locking Dowel connector including a threaded stud and a plastic sleeve. It is self-tightening, non-visible, and can be inserted immediately into standard boreholes without waiting for glue to dry. It comes in ∅ 5 x 7.5 mm, ∅ 5 x 11 mm, ∅ 8 x 8 mm, and ∅ 8 x 26 mm. The plastic sleeve remains ∅ 8 mm for all versions. You can use the QUICK-SET dowel on flat surfaces with a material thickness of 5/8″ inch (16 mm) or more. Cabinets and case goods can be put together on-site quickly and easily, thus high transport costs are omitted.
Concealed Woodworking Fasteners
Slide-in
The CHAMP, SUNNY, SILVER and METAL biscuits follow the same design, principles, and functions with slight variations. All of them sit in a standard #20 biscuit slot (4 mm), they are self-tightening, and non-visible. The connector halves are simply knocked into the biscuit slot with a hammer following the radius of the cut. Like most of our woodworking connectors, our biscuits can also be disassembled, with the exception of the SUNNY, which locks in place. The biscuits connectors consist of two identical halves that are installed into the biscuit cut and simply engage by sliding the two halves together.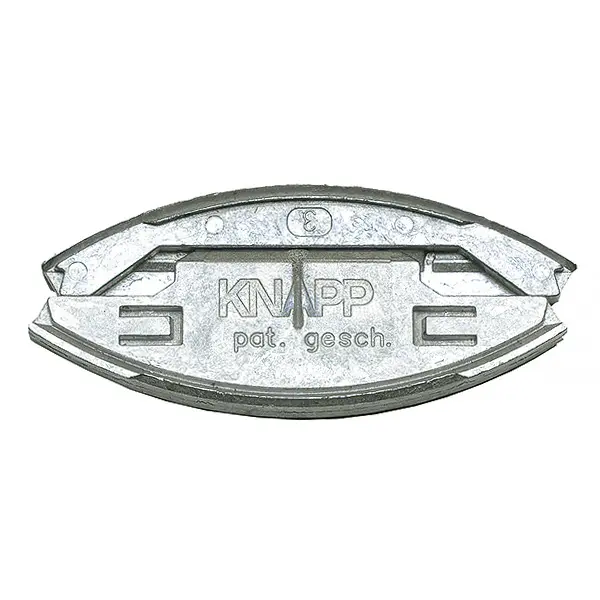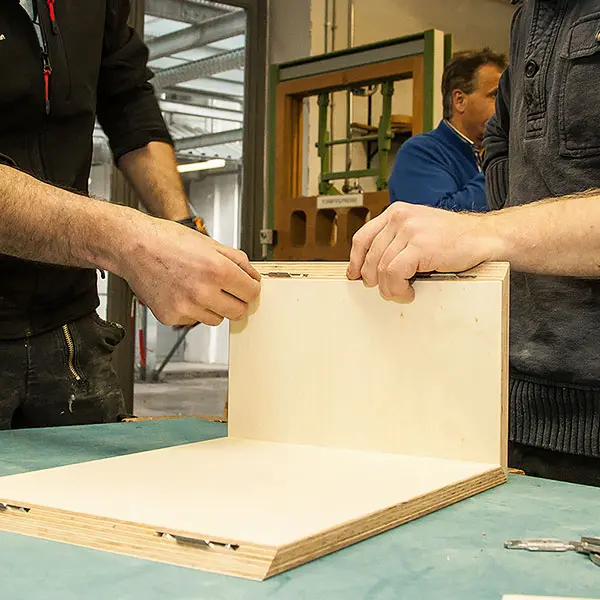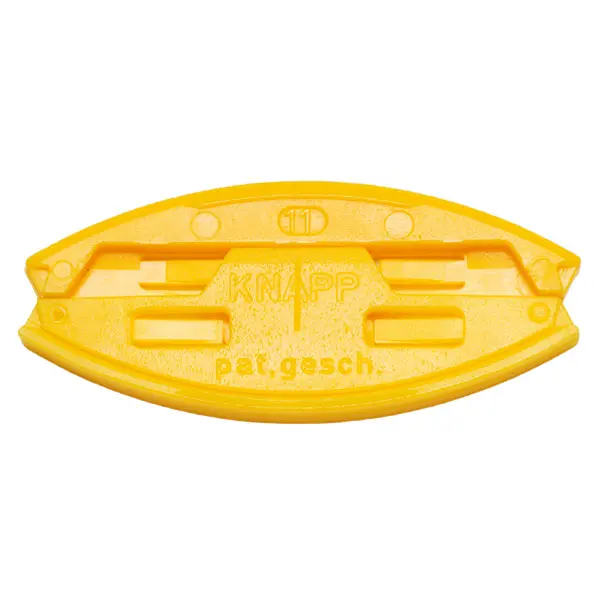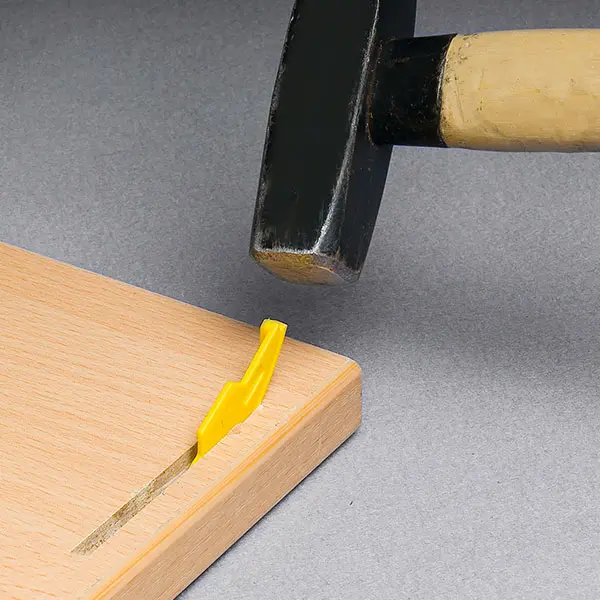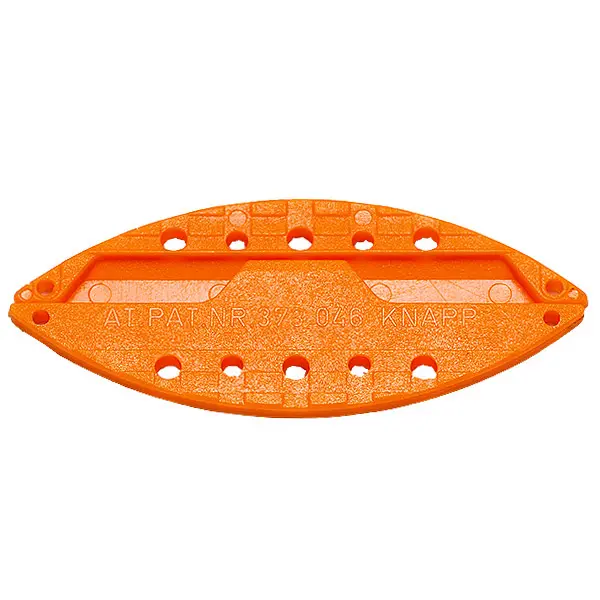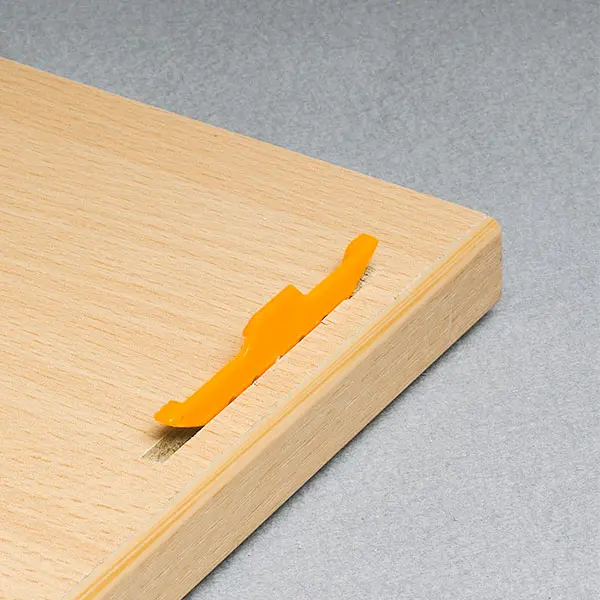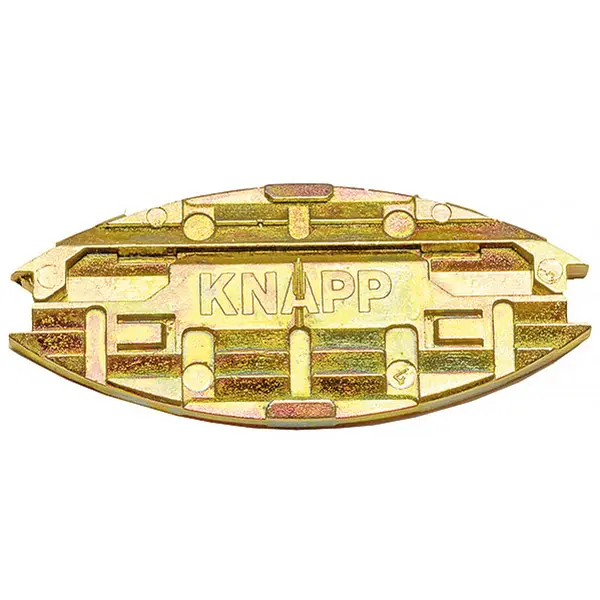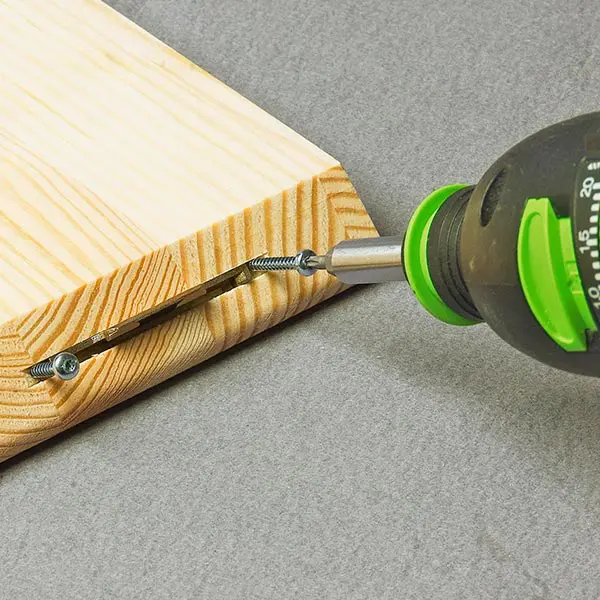 Clip-in
The FAST snap-in woodworking connectors are commonly used for attaching trims and face frames. Insert the FAST by knocking it along the radius of a #20 biscuit slot.
The CLIPS requires a #10 biscuit slot and is used to attach toe kicks and removable panels. Both, the CLIPS and the CHAMP are installed using KNAPP Adhesive PU+ (Z011/1). Through the holes on the bottom of the connector, the KNAPP Adhesive PU+ can bond firmly to the material. You can make the connection permanent by gluing the joint.
With 6 different designs, you can join components without using clamps or glue. Whether you manufacture or design shop fittings, case goods, or custom architectural millwork, we have a solution that will work for you.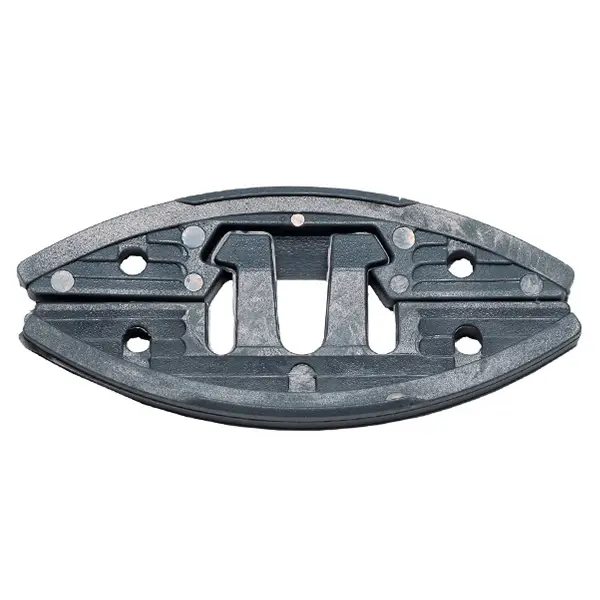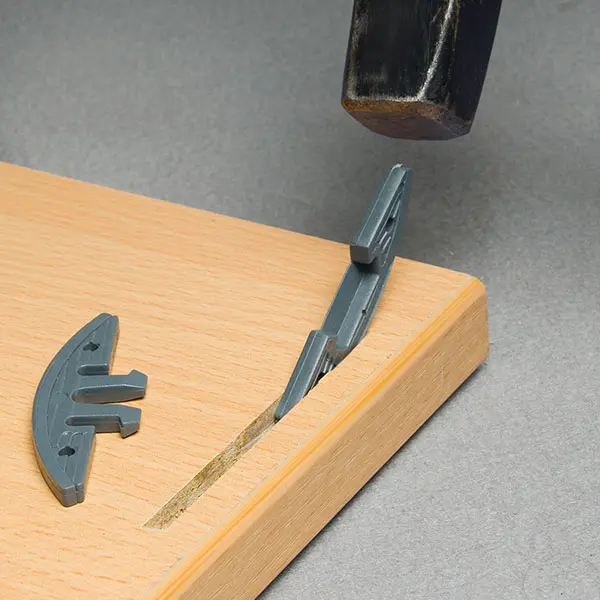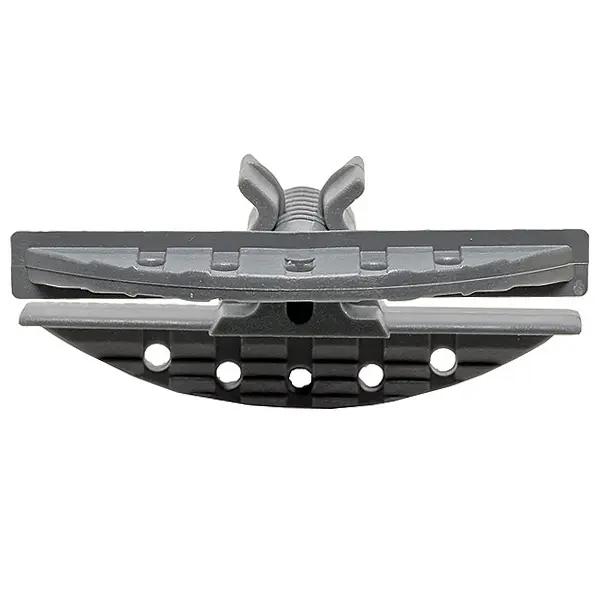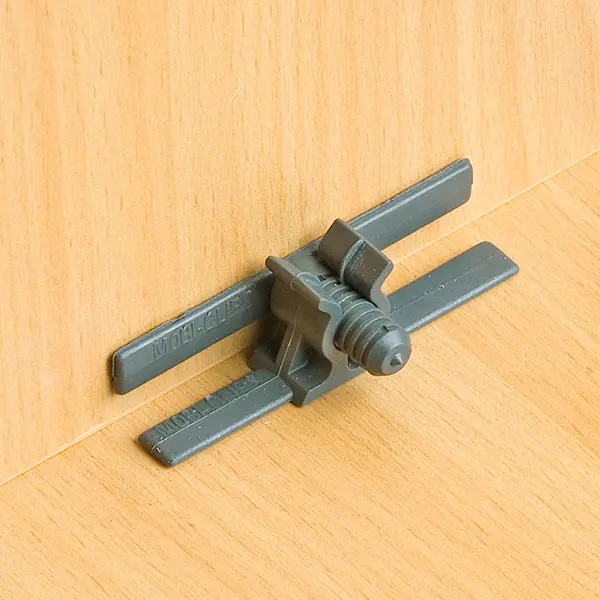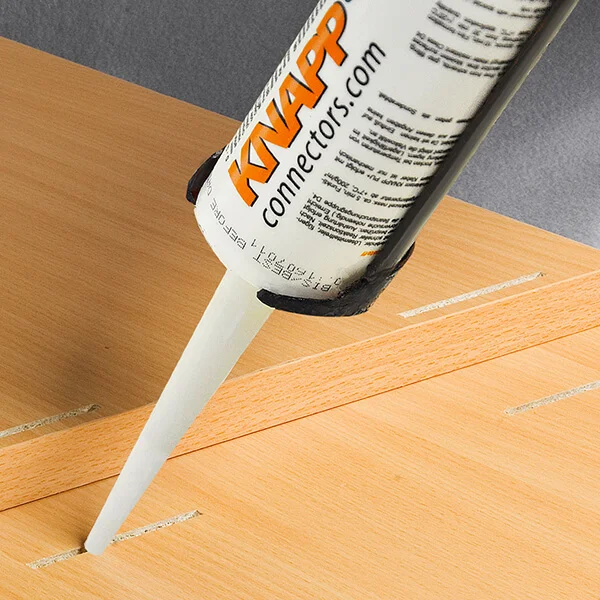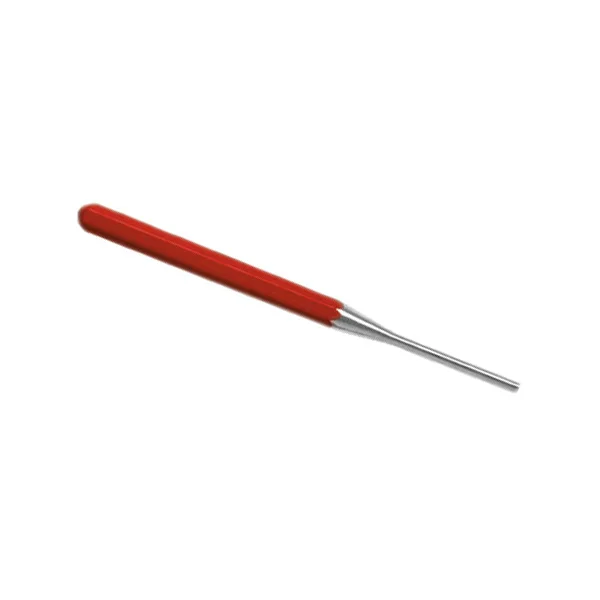 Still looking for a solution?
We hope you have found some practical and innovative window and door manufacturing solutions. If you're still looking for a solution that you have not yet seen, we are here to help! In this industry, we are always inventing and continuously learning to improve and meet the needs of our customers. We will be glad to help you find a connecting solution. Please, fill out the form below so we can help you find the connector for your woodworking project.
Tell us what type of connector you're looking for!
If you'd like to speak with a specialist about how our products can meet your unique needs, fill out the form below or give us a call at (877) 888-7773
With over 30 years of experience inventing connecting solutions for woodworkers, KNAPP® is proud to say, "we supply the world". While our main headquarters is located in Austria, KNAPP® has been supplying connectors to the United States and Canada for over 20 years. As the demand for invisible connecting solutions grew, we replied by establishing our roots here in the U.S. back in 2017 to better serve the needs of our fellow woodworkers. Our KNAPPconnectors.com online store is pleased to serve North, South, and Central America. If you live outside of this area or if you live in Europe, please visit knapp-verbinder.com or email [email protected] to be connected with the right representative.